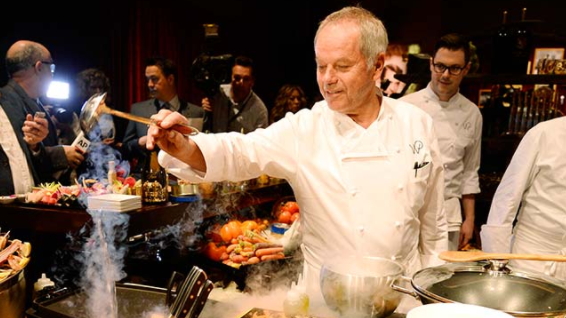 By Trevor Scott
Ever since he opened his world-famous restaurant, Spago on LA's Sunset strip back in 1982, celebrity chef, Wolfgang Puck, has continued to open restaurants across the United States from Atlantic City to Maui and everywhere in between.
Now he's facing many of the same challenges that restaurateurs all over the world are dealing with: How do you preserve and grow your business during quarantine with restrictions on dining? How do you begin to reopen safely?
Puck shared how he is steering his businesses — Wolfgang Puck Fine Dining Group, Wolfgang Puck Catering, and Wolfgang Puck Worldwide, Inc. — through the Covid-19 crisis while always keeping his eyes open to new opportunity.
"When we shut down the restaurants, we decided to do takeout, at the beginning, we didn't really know how to do it that well. After three weeks I said, 'We are not growing our business.' My question is always: How are we going to grow the business we are in?," Puck asks.
SPAGO, BEVERLY HILLS IS OPEN AGAIN

"My idea was to think about takeout more broadly. At Spago in Beverly Hills. We started with discounts to move the food we already had and then increased the prices to where they'd been. That's also when we started to sell wine and cocktails. People really seemed to like that. You can get a Negroni all made up; all you have to do is pour it over ice and put an orange peel in it. Then we noticed that on Wednesday and Thursday our pickup business was a little slower. So, we started to make fried chicken. We started to attract a lot of customers. That, for me, is the most important thing. I love to see a business grow, and we have to figure out how we're going to grow in every restaurant."
Puck also shared how he has planned the re-opening of his restaurants.
"There will be big changes for customers. Obviously, we're going to have waiters wearing facemasks. We're going to have a doorman, so customers don't have to touch a handle. Hopefully, by the wintertime we'll have a vaccine, and then people will feel more comfortable. Our primary concern is how we're going to make our employees and customers safe.
Another concern as we reopen is how we determine how many people and which people are going to get their jobs back right away. It's really a tough decision to make. It comes back to how are we going to make our employees and the customers feel safe, so that we actually have a viable business.
We try to adapt and do things in order to get another customer to buy our product. We are trying to use the Covid-19 crisis as an opportunity. Maybe one day we'll build a ghost kitchen where we'll just do takeout. We could actually develop a whole new business with that."