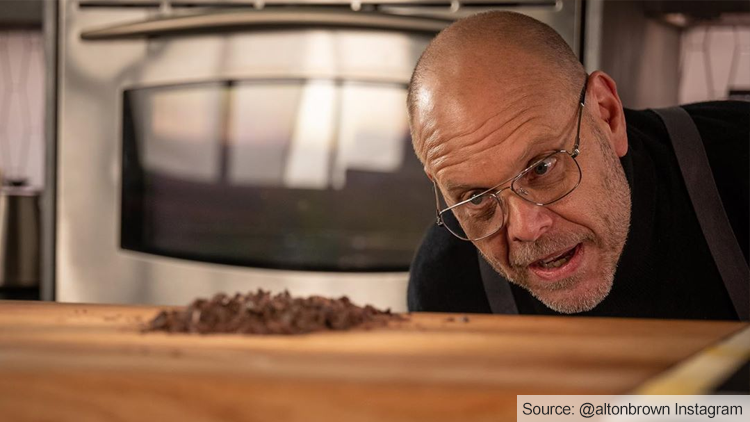 By Trevor Scott
Chef, Alton Brown was nearly three months into quarantine when he decided to get adventurous. The host of "Good Eats" and "Iron Chef America" started "Quarantine Quitchen," a new YouTube series he created with his wife, Elizabeth, while sheltering at home. It features the couple sipping cocktails and occasionally breaking out a guitar to strum a few tunes while they challenge each other to create a dish based on random ingredients scraped together from the refrigerator and pantry.
"What people are responding to, besides just the food, is the reality of a couple at home," Brown says. "There is something very appealing about that live aspect and the feeling that anything can happen."
Since ingredients are scarce and people are exercising more caution about going to the grocery store, the coronavirus pandemic has given people a new appreciation for creative cooking. And celebrity chefs have been at the forefront of the at-home culinary revolution, guiding America through the global crisis by livestreaming cooking classes, offering tips and tricks on Instagram Live and engaging with fans on social media.
But fans aren't turning to celebrity chefs for entertainment alone.
Antoni Porowski, the resident foodie on Netflix's "Queer Eye" used the lockdown to test complex recipes he hadn't had time to crack while filming "Queer Eye." But he realized that near-empty grocery stores would make that difficult. So he posted video of a Tex-Mex omelet, complete with salsa and sour cream. "A lot of people commented, 'We haven't had eggs in our grocery store for over a week,'" he recalls. "It made me reposition my thinking. What else are people missing in different parts of the country?"
Padma Lakshmi, the host of "Top Chef," has taken to Instagram to give her followers a step-by-step breakdown of how to prepare everything from lasagna to baby back ribs. Her young daughter, Krishna, frequently lends a hand in the kitchen. "It's a teaching moment for a lot of people who are intimidated by cooking," Lakshmi says of her social media feed. "One thing I try to do in my videos is to show that everything is replaceable, especially in this time where the rules of cooking should be more fluid."
Guy Fieri has been providing an escape from the stove with a variety of food competition events for charity. The restaurateur and TV personality teamed up last month with actor Bill Murray for "Nacho Average Showdown" on Food Network's Facebook page, enlisting all-star judges like Shaquille O'Neal and actor Terry Crews to decide who makes the best tortillas with all the fixings. Fieri also hosted a cookoff between Will Smith and Kevin James in April, in which the two Hollywood heavyweights went toe-to-toe putting their own spin on pasta.
"You know I like to say it, but everybody loves food. You don't even have to be eating it. It just gives people comfort," Fieri says.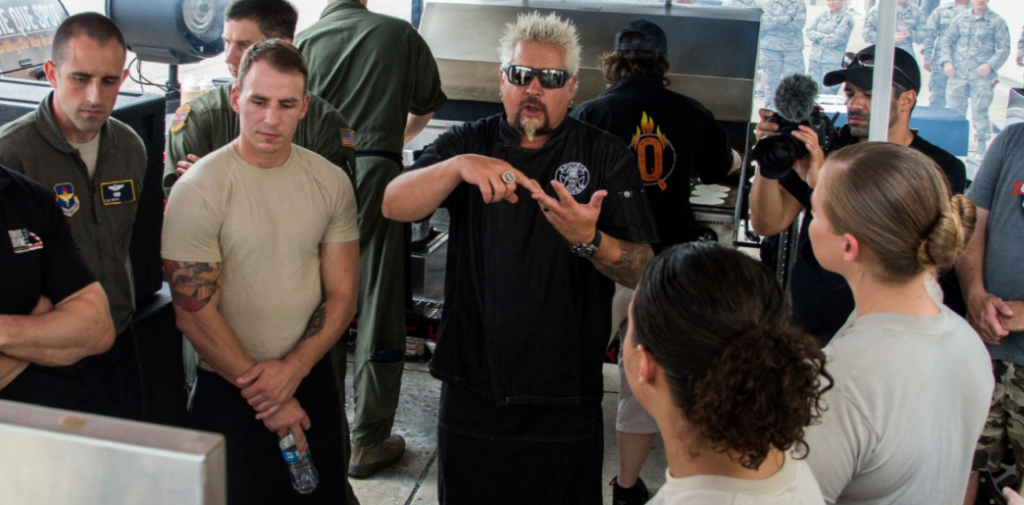 The events raised money for Fieri's Restaurant Employee Relief Fund (RERF), which gives financial aid to restaurant workers affected by coronavirus shutdowns; an estimated 8 million of them are out of work. Since May, Fieri has helped 40,000 people with grants of $500, distributing more than $20 million. His goal is to collect $100 million.