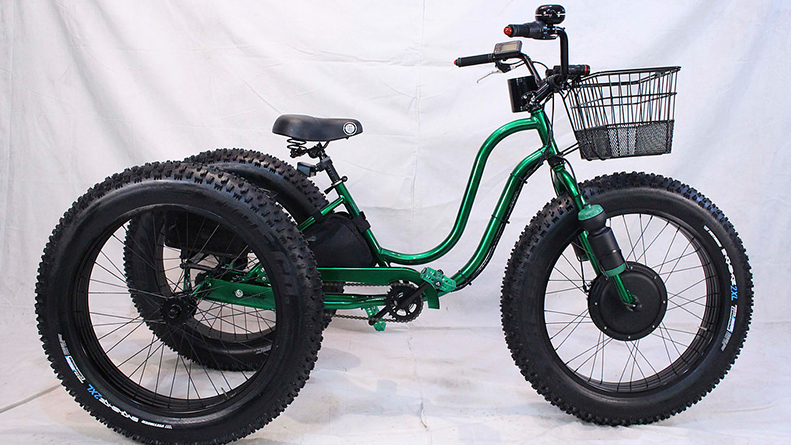 America's best independent business ideas often spring from one person's attempt to solve a problem. Take for instance Joe Bush, who needed to overcome injuries that kept cropping up when he exercised. Our friends at KSTP Channel 5 Eyewitness News in the Twin Cities explains how Mr. Bush's problem solving resulted in the creation of one of the coolest bike companies you'll ever see.
As the years have gone by, Joe Bush noticed more and more injuries cropping up. First it was a bad knee, next a bum hip and finally a spinal fusion. Always the one to stay fit, Bush knew he had to come up with an alternative way to stay active.
He says, he threw around several ideas but he knew he needed a low impact activity. He looked at swimming. But instead he chose biking. But instead of a regular bike he chose to modify a tricycle. Joe took a couple trikes with him on vacation to Florida. He says, he was surprised by how much attention his bikes got.
"The people that approached us because we had them on a trailer we couldn't get out of the parking lot wherever we went without people just knocking down the door," he said.
Bush came back home to Lakeland in Washington County and started "Fat Tire Trike." He added an electrical motor and made modifications to frames to accommodate folks with physical limitations. He says, he made a custom set up for a man with polio in Duluth.
"Once he starts pedaling, he has a little bit of mobility and then when it comes to hills he uses it to come up and down," Bush said. "He rides eight to 10 miles a day up and down the hills in Duluth."
One of Bush's clients, Don Bateman, saw him with several of his bikes on a trailer one day. He followed him five miles to a gas station to find out how he could buy one.
"The first bike I bought only had 4-inch tires; I needed 5-inch tires."
Bateman says he's put in 50 miles since he bought his trike. He enjoys riding bikes but the hills in his neighborhood are a bear.