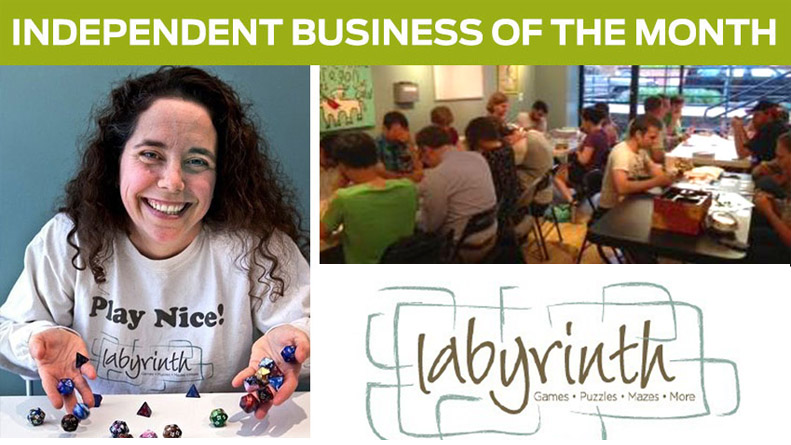 Washington, D.C., is home to plenty of partisan arguments. But there's one thing the town's Democrats and Republicans can agree upon: Labyrinth Games is a national treasure.
In just four short years Labyrinth has grown to become a must-see destination for visitors from all over the world. They come in search of new or rare games of all types, from specialty games like Magic:The Gathering, to puzzles and especially board games…including mancala, the ancient game of Arab origins, which as it turns out is the game of Labyrinth's origin as well.
"I was stuck in traffic after having driven all over the region looking for a mancala game to give as a gift, when I called my husband to complain," recalls Kathleen Donahue, explaining that she and her husband, Keith Clayton, had been looking to open a small business but were having trouble deciding on what type. "'There it is!' my husband tells me, 'open a toy store!"
Kathleen's response? "I don't like toys! I like games."
And just five very hectic months later, Labyrinth Games opened in the shadow of the U.S. Capitol. And like most small business owners, Kathleen quickly learned a hard lesson.
"It's way more work than I thought," says the former international trade representative for the state of Florida. "I work seven days a week, 14 hours a day. So, you really have to be committed."
It also helps to really like your customers, Kathleen says. "I see small business owners complaining about their customer base and I really don't get that. You really have to enjoy them, or otherwise you'd go crazy. If you don't like your customers, then I think you're in the wrong business."
Kathleen likes her customers, and they like her back. "We have a wide customer base. We have loyal customers who live or work in D.C., but we also have a lot of customers who come to Washington from all over the world, and they make it a habit of coming to the store. That makes us feel great, and we work hard to keep them coming back."
Keeping up with the latest trends is a must. "There's been a renaissance in board games. I think people in their 20s and 30s realize they can have a dinner party and play a game, and it's an entertaining and economical way to spend an evening," Kathleen says.
Yet operating a niche store in the nation's capital offers unique challenges. "Washington is very transient," Kathleen explains. "People who work at the State Department and the Pentagon, and some on Capitol Hill, are rotated out of town every two years. We ship around the world to them, but we always have to be marketing because my clients leave."
Labyrinth Games' marketing efforts probably sound familiar to fellow successful independent business owners. "We spend a little on advertising — a weekly ad in the local paper. But mainly we use social media to promote ourselves. Almost all of our marketing is through events.
"We try to make it a community," she says, explaining that Labyrinth hosts gaming get-togethers almost every evening, and has also branched out into sponsoring after-school events at 14 local schools.
"We try to make it where people want to come in and hang out," says Kathleen, who, as a daughter of a liquor store owner, understands the difficulties of operating a stand-alone, brick-and-mortar business, especially now that the Internet has made everything she stocks just a click away.
"I really just listen to my customers, and give them what they want."
You can visit Labyrinth Games online at www.labyrinthgameshop.com, or visit the store at 645 Pennsylvania Ave. SE in Washington, D.C.