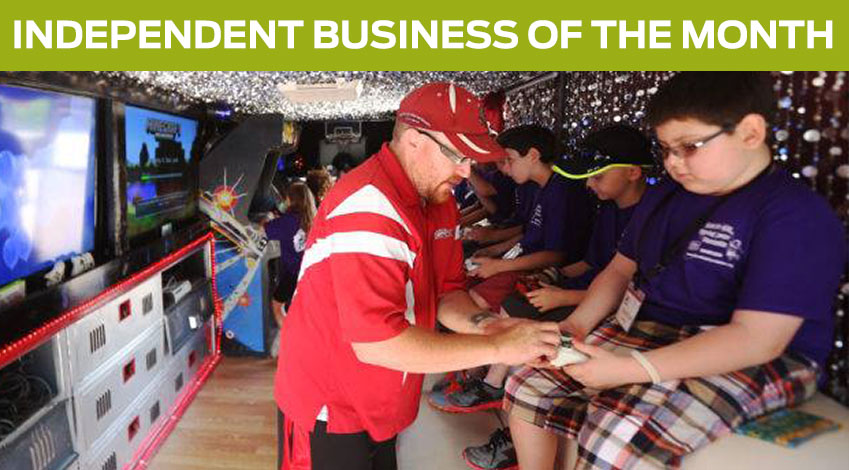 Growing up, Jason Brines wiled away the hours on his Nintendo, but it wasn't until 2007 while he and his wife Wendy were vacationing in Texas that the two came up with an idea to make all those years behind a joystick pay off. Their vision was a mobile game arcade that would "let the party come to you."
Back home in Benton, Kansas, the recession was getting under way and banks weren't lending, so the Brines' put their plans on hold. But Wendy, a die-hard do-it-yourselfer, was not about to let the dream die, and so she encouraged Jason to put his business degree to work and find a way to get the business going. In 2011, the Brines' bought a used race car trailer, Wendy used her D-I-Y skills to decorate, and Mobile GameDen was born.
Since then, the Brines family, including all five kids ranging in age from 5 to 18, has spent much of its time party hopping through the Wichita metro area. "We'll roll up to your house, church, or place of business, I'll crank up the music, and the fun is on!" says Jason.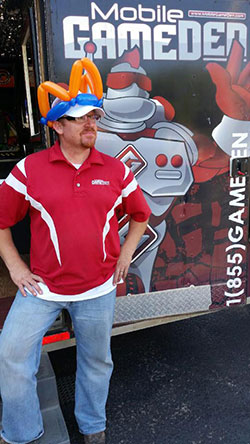 While Mobile GameDen has all the makings of a party from laser tag and human hamster balls to bounce houses and photo booths, Jason says their most popular attraction, hands-down, is the mobile arcade. This game room on the go boasts all the latest and greatest X-Box, Wii, and Play Station games available to play on the big screen for every level of gamer, as well as plenty of stand-up arcade games like Pac Man and Donkey Kong for those who want to kick it old school. And if you can beat Jason's high score on Galaga, he promises two things, "I'll give you a hundred bucks off a mobile party and you'll get to see a grown man cry."
The Brines' are living their dream every day, bringing smiles with a business whose biggest daily stress is ensuring there are enough batteries for a legion of game controllers. But the best part for Jason is that it allows him to fulfill his true passion: giving back.  With Mobile GameDen flourishing, the Brines' were able to partner with a non-profit to form Gamesgiving Foundation, a charity that provides games to children in the hospital. As a child, Jason was diagnosed with meningitis and endured a long hospital stay. Although his condition was somewhat grave, the thing he remembers most was the "sheer boredom" he suffered while in the hospital. His goal with Gamesgiving is to offer kids a positive distraction to help them heal. As Jason tells it, Gamesgiving "is a way I can help me all those years ago."
To learn more or to make a tax deductible donation to Gamesgiving, please visit the website at www.gamesgiving.org.
Mobile GameDen
Wichita, KS
(855)-GAMEDEN