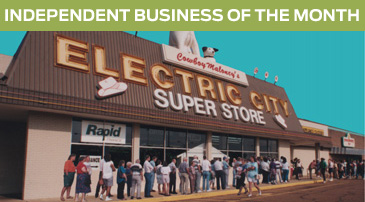 Everyone in the Jackson, Mississippi, area knows there's only one place to go when shopping for home electronics: Cowboy Maloney's Electric City. The business was started by Jimmy "Cowboy" Maloney and his wife Dolly, and now their three sons — Con, Eddie and Johnny — have taken the reins.
The retailer has the distinction of being the first anywhere to sell 18-inch television satellite dishes, a product that quickly made its 20-foot-wide predecessors obsolete. Being the first to carry the satellite dishes was quite a coup for Cowboy Maloney's, and as Johnny Maloney will tell you, "Never has 18 inches done so much for three brothers."
In 1952, the company started as a true mom and pop shop, with Cowboy and Dolly Mom running the entire operation, but today it is a major employer with a dozen locations and more than 200 associates. According to Johnny, the most important thing about their company is that "it's a family business, it's run by three brothers, and we're still the best of friends."
The Maloneys don't assume that they'll keep a healthy customer base just by being the home team. Instead, they draw in customers with good prices and excellent service. The brothers are active in their community as well as their church, and they want to know they've given their friends and neighbors the best price possible.
Cowboy Maloney's associates also reap the benefits of working for an independent retailer, because individual issues get solved individually at this family-owned institution. The Maloney brothers make a point of being accessible and can be reached easily when an issue arises. As Johnny puts it, "If we think we're wrong, we'll fix it. If we don't think we're wrong, we'll discuss it." Because for the Maloneys, it's not just about business — it's about family.
Cowboy Maloney's Electric City
1313 Harding Street
Jackson, MS 39202
http://cowboy-maloney.com
877.269.2697